Beyond Meat (NASDAQ:BYND) is regaining its momentum after a dramatic fall from grace last year. Indeed, the producer of plant-based "meat" has surged more than 60% in the first two weeks of trading in 2020.
The latest upswing in its share price is the result of many positive developments that show that the El Segundo, California-based company is rapidly gaining market share at a time when consumers are increasingly purchasing plant-based products that have the look and taste of meat.
Investors bid up Beyond Meat stock Tuesday after Executive Chairman Seth Goldman said the company plans to expand to China this year as part of its global plans. "We haven't announced anything, but we are expected to do something this year," Goldman said at the U.S. National Retail Federation show.
According to Goldman, sales of plant-based protein could come to represent 13% of total supermarket meat sales in the next decade; increasing production to meet these levels would require the overseas expansion. The news sent BYND stock surging about 17% at one point on Tuesday to trade at $134.78. It closed up 2.4% for the day at $117.05.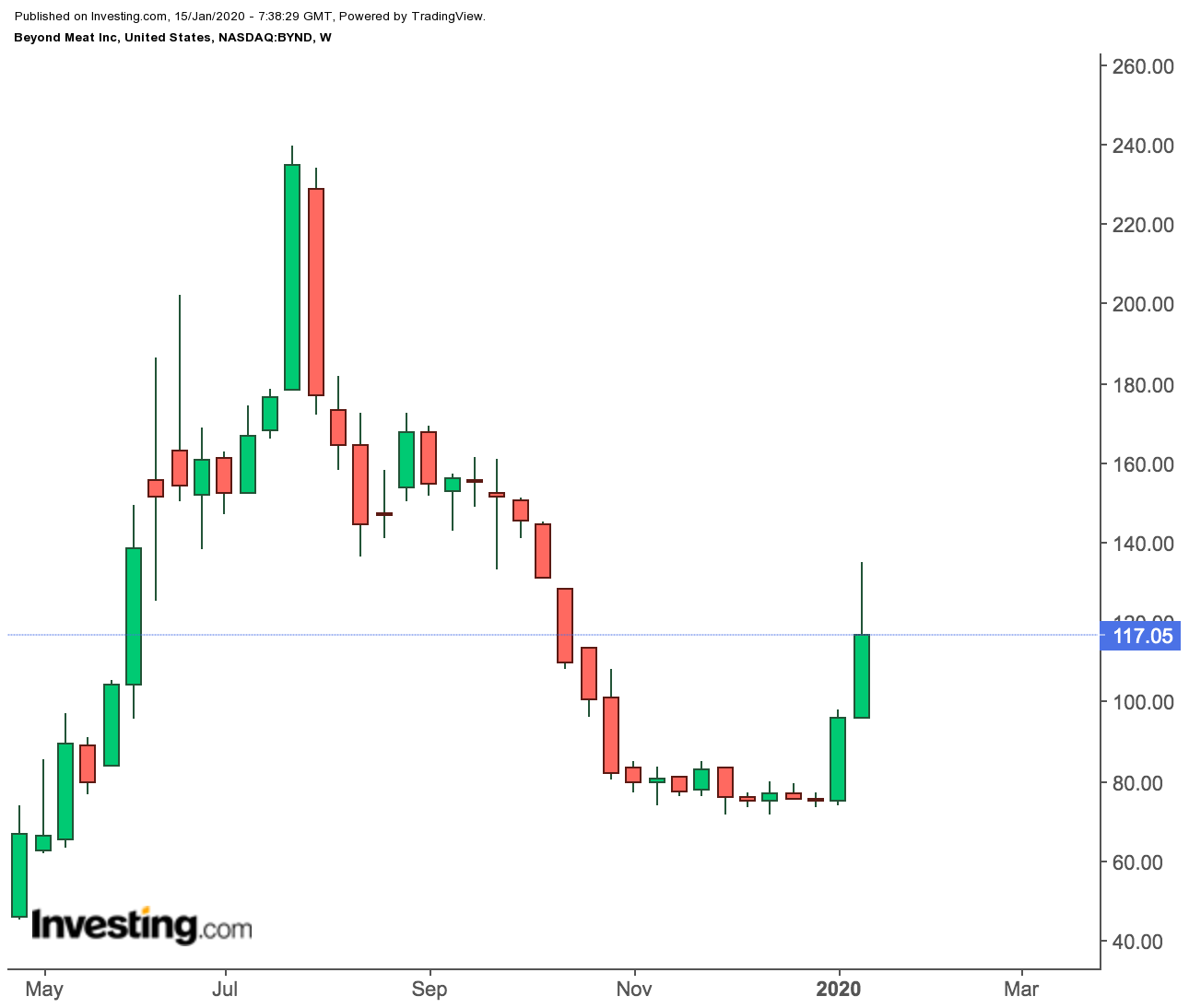 Beyond Meat Weekly Prices
Beyond Meat has been on a roller-coaster ride since going public in early May at an IPO price of $25 a share. Despite the stock's impressive run this year, the shares are still down more than 40% from their peak in July last year.
Earlier this month, the shares surged after fast-food giant McDonald's (NYSE:MCD) said that the Beyond Meat patties that have been tested at some Canada locations are "exclusive" for the fast-food chain. Another restaurant chain Dunkin Brands Group (NASDAQ:DNKN) announced this week that rapper Snoop Dogg would star in a TV ad campaign, promoting a sausage sandwich made from Beyond Meat's plant-based protein.
Lofty Valuations
But Beyond Meat's eye-popping rally is also raising questions in the minds of cautious investors who try to justify these lofty valuations. After this year's surge, the plant-based "meat" supplier's market valuation is more than $7 billion, putting it in the league of established food companies with billions of dollars in sales.
Tyson Foods Inc (NYSE:TSN), the largest U.S. meat producer, has a $33.76 billion market cap with $43 billion in expected sales for the current fiscal year. Before yesterday's surge, Beyond Meat was trading at the enterprise-to-12-month-forward-sales multiple of 29 — a huge premium when compared to other packaged food companies which are trading at the low single-digit valuations.
Of course, these comparisons don't make much sense when we are dealing with a high-growth company like Beyond Meat, but investors should take into account the threats which might damage this highly ambitious expansion scenario.
After seeing Beyond Meat's success, some major players have already entered the plant-based food market. Nestle (SIX:NESN) launched its plant-based Awesome Burger in the U.S. in September. Supermarket chain Kroger Company (NYSE:KR) is the latest company to join the group with its launch of plant-based patties under its Simple Truth brand.
Bottom Line
Beyond Meat has grabbed the attention of a market which was left open by the big food companies. But that space is becoming crowded, with many established players joining the fray.
We don't believe Beyond Meat has a big economic moat to defend its turf once the competition is firmly established. Investors who had a chance to buy this stock low should trim their positions and book profit.
Read more at : https://www.investing.com/analysis/why-beyond-meat-shares-are-soaring-200498826