Yields rally ahead of FOMC decision and presser
Strong economic data increases concerns the Fed may change policy
Robust earnings results fail to assure investors
Key Events
Futures on the Dow, S&P, NASDAQ and Russell 2000 faltered in trading on Wednesday. This appears to be a decoupling of yields and stocks. European stocks were also lower, having been pushed down from an initial rally boosted by earnings.
The dollar traded higher while gold slid.
Global Financial Affairs
The market narrative says that investors are waiting for clues later today on the timing of stimulus tapering by the Fed. This is a shift in sentiment as until yesterday it seemed traders were confident that the Federal Reserve would maintain its stated policies of lower rates for longer.
In Europe, the STOXX 600 Index fell into negative territory after initially rising 0.1% earlier this morning, led by the region's banking sector which advanced 1.1%, following strong results from banks including Deutsche Bank (DE:DBKGn) and Lloyds (LON:LLOY). Lloyds jumped 4.2% after beating earnings expectations.
Frankfurt-based, Deutsche Bank surged 5.2% after reporting its best quarterly profit in seven years. The German lender benefited from having avoided the fallout from collapsed US hedge fund Archegos Capital, which is pressuring Switzerland-based, UBS (SIX:UBSG) and Credit Suisse (SIX:CSGN).
Also, Sweden's Skandinaviska Enskilda Banken (ST:SEBa) and Spain's Santander (MC:SAN) edged up after posting their earnings.
Shares in Lysol manufacturer Reckitt Benckiser (LON:RKT) dropped 2%, weighing on the pan-European benchmarks, even as the company reiterated its full-year outlook that sales from its health division would improve as pandemic restrictions are lifted.
Earnings at European companies in the first quarter of 2021 are expected to surge 71.3% from a year earlier, according to Refinitiv IBES data, up from last week's forecast of a 61.2% jump.
Investors seem to want a fresh catalyst before they are willing to carve out new record highs. Traders in both the US and Europe have responded apathetically to exceptionally robust earnings and seem to be waiting for yet more assurances that US policy makers will make good on their oft-repeated promises, as the continued improving economic conditions raise concerns that the Fed will hike rates.
This is another example of good news actually being treated as bad news—strengthening economic data is being interpreted negatively amid stretched valuations that are dependent on continued US central bank support.
The Fed may find itself in a de-escalating situation, in which investors, aptly enough, behave like spoiled children who keep demanding more and more sweets or else they will throw a tantrum. In this way, the central bank may come to feel like a hostage to investors, as the more it gives, the more investors take while demanding even more.
President Joseph Biden may also have an interest in the Fed maintaining its accommodative policies as he rolls back former President Donald Trump's tax cuts and plans to further increase taxes.
For now, at least, stocks seem to have decoupled from yields. If, however, we're right, they will recouple soon.
Yields on the 10-year Treasury note are struggling below the neckline of a top.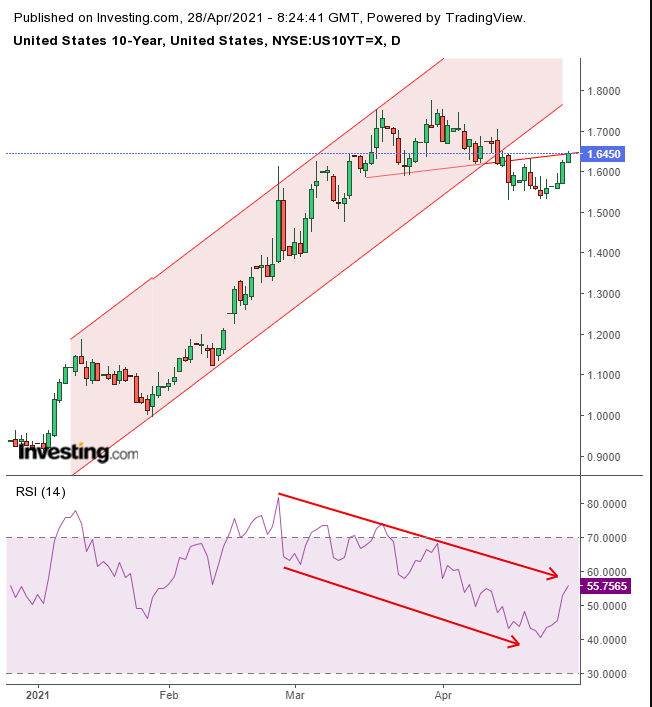 Rates have fallen out of their rising channel, signaled by a heads up previously given by the falling RSI.
Rising yields pushed the dollar higher for the second day. Nevertheless, the currency is still trapped within an exceptionally narrow falling channel.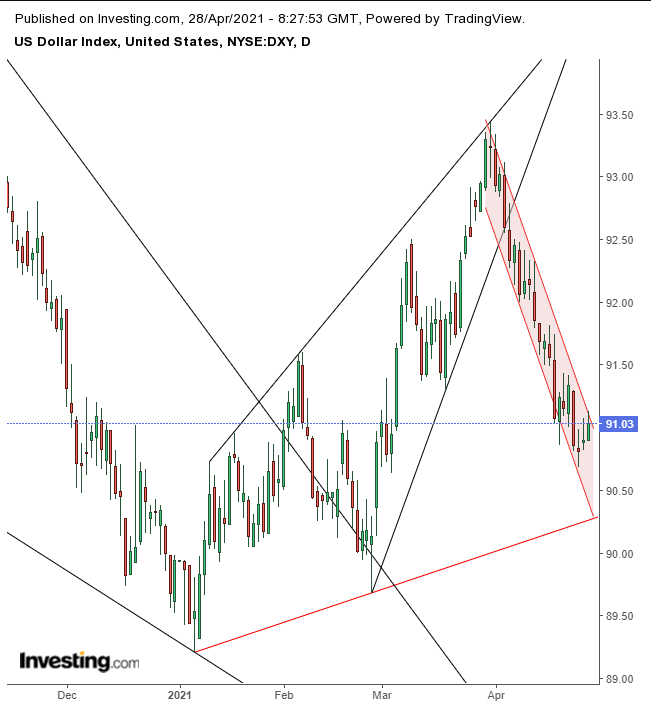 The unsustainability of the rapid decline that took place supports the view of a reversal. While the recent selloff was triggered by a rising wedge, it followed a much larger falling wedge since the March 2020 peak.
Gold has been falling on dollar strength.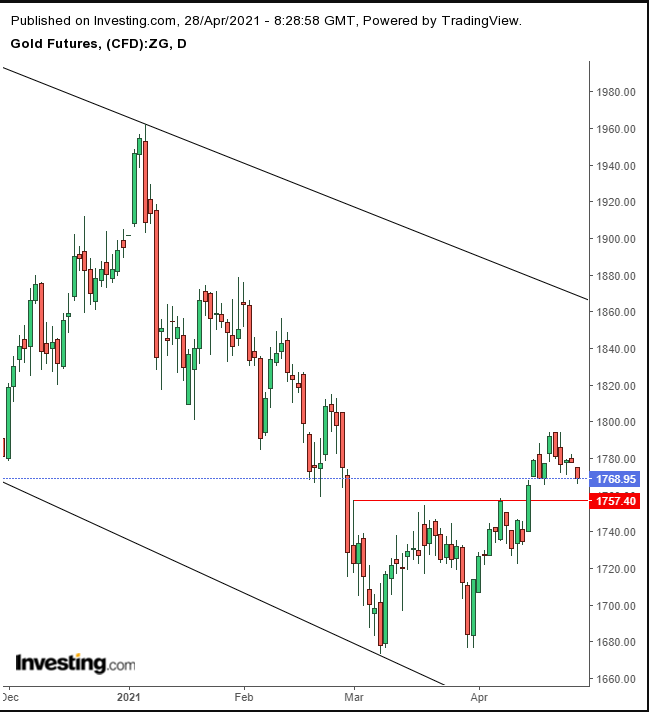 The yellow metal slumped toward the neckline of a bottom, within a falling channel.
Bitcoin snapped a two-day rally, having reached the resistance of the congestion from two weeks ago.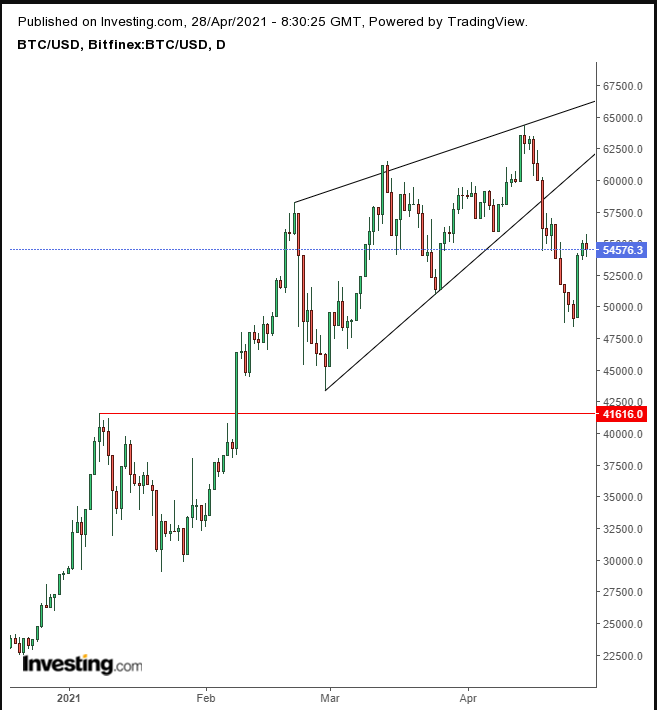 The cryptocurrency could be at the point where it returns for another leg down toward the $40,000 level, before it takes on new records.
Oil pared gains which were boosted by the expectation that demand will rise despite the coronavirus pandemic, perhaps due to the confirmation by OPEC+ that it expects to see a recovery in demand.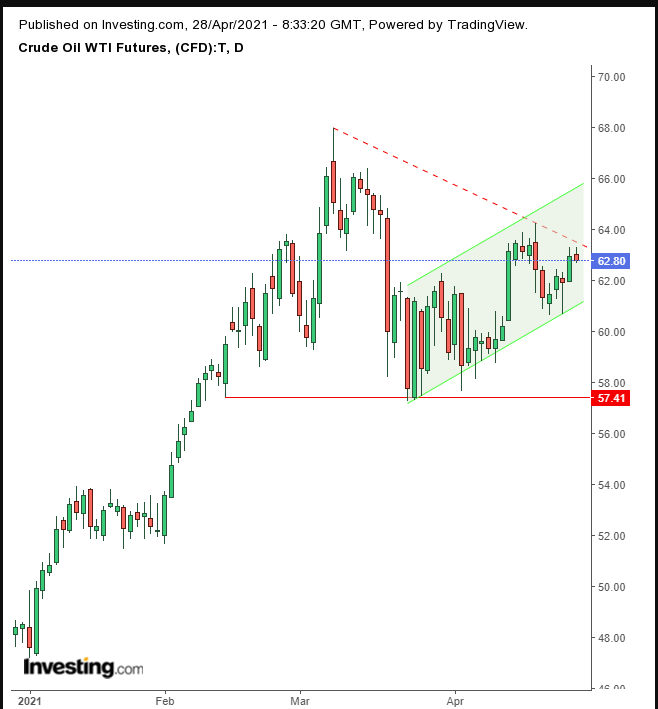 WTI found resistance by the top of a descending triangle, which develops when seller panic grows, thus continuously reducing offer prices, till they force the price below the pattern.
Up Ahead
President Joseph Biden makes his first address as president to a joint session of Congress on Wednesday.
US GDP released on Thursday is forecast to show growth strengthened in the first quarter.
On Friday Canadian GDP is published.
Market Moves
Stocks
Currencies
The Dollar Index increased 0.2%.
The euro declined 0.2% to $1.2067.
The British pound sank 0.3% to $1.3874.
The onshore yuan weakened 0.1% to 6.487 per dollar.
The Japanese yen weakened 0.2% to 108.97 per dollar.
Bonds
The yield on 10-year Treasuries gained two basis points to 1.64%.
The yield on two-year Treasuries decreased less than one basis point to 0.18%.
Germany's 10-year yield gained three basis points to -0.22%.
Britain's 10-year yield climbed four basis points to 0.812%.
Japan's 10-year yield gained one basis point to 0.098%.
Commodities
West Texas Intermediate crude gained 0.3% to $63.11 a barrel.
Brent crude climbed 0.2% to $66.57 a barrel.
Gold weakened 0.4% to $1,769 an ounce.
Read more at : https://www.investing.com/analysis/opening-bell-us-futures-europe-stocks-dip-as-market-questions-fed-support-200575879