'Tis the season for a Santa Claus rally.
While the reasons for a Santa Claus rally are debatable, the main school of thought is that because there is less institutional participation in the market, with many taking time off to travel, the stock market is left in the hands of the retail investors which tend to be more hopeful and cheerier.
However, this Christmas is far from average, laying doubt on the potential Christmas rally which normally takes place in the last two weeks of December.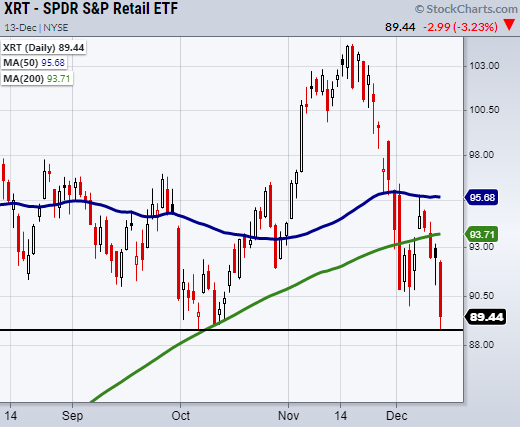 With mixed information on the new variant, and a weak supply of goods, shoppers could be less motivated to spend this holiday.
One worrying sign is from the retail sector—SPDR® S&P Retail ETF (NYSE:XRT)—which is breaking under recent lows around $89.96. However, if the retail space is going to make a turnaround, it's going to need to hold over $88.75.
Having said that, the retail space is not sticking out as the only weak sector.
Looking at other key sectors within Mish's Economic Modern Family, iShares Transportation Average ETF (NYSE:IYT), SPDR® S&P Regional Banking ETF (NYSE:KRE), and VanEck Semiconductor ETF (NASDAQ:SMH) are also weak.
This means that the retail space is not being singled out as prices are dropping across the board.
With that said, if there is going to be a Santa Rally this year, we should watch for signs that XRT can hold these recent lows along with other key sectors from the Modern Family.
Read more at : https://www.investing.com/analysis/is-the-santa-claus-rally-almost-here-200611461