After returning about 150% in 2019, the shares of Advanced Micro Devices (NASDAQ:AMD) could be on a tear again. The stock gained 5.5% in the first two days of 2020, hitting $48.53 on Jan. 2 and surpassing an intraday record it touched almost two decades ago.
The shares have slipped since then, falling 2.6% since Jan. 3, to close yesterday's session at $47.83. However, this follows a rally last year in which AMD stock rewarded its investors in a big way, becoming the biggest percentage gainer among the stocks listed in the S&P 500 index.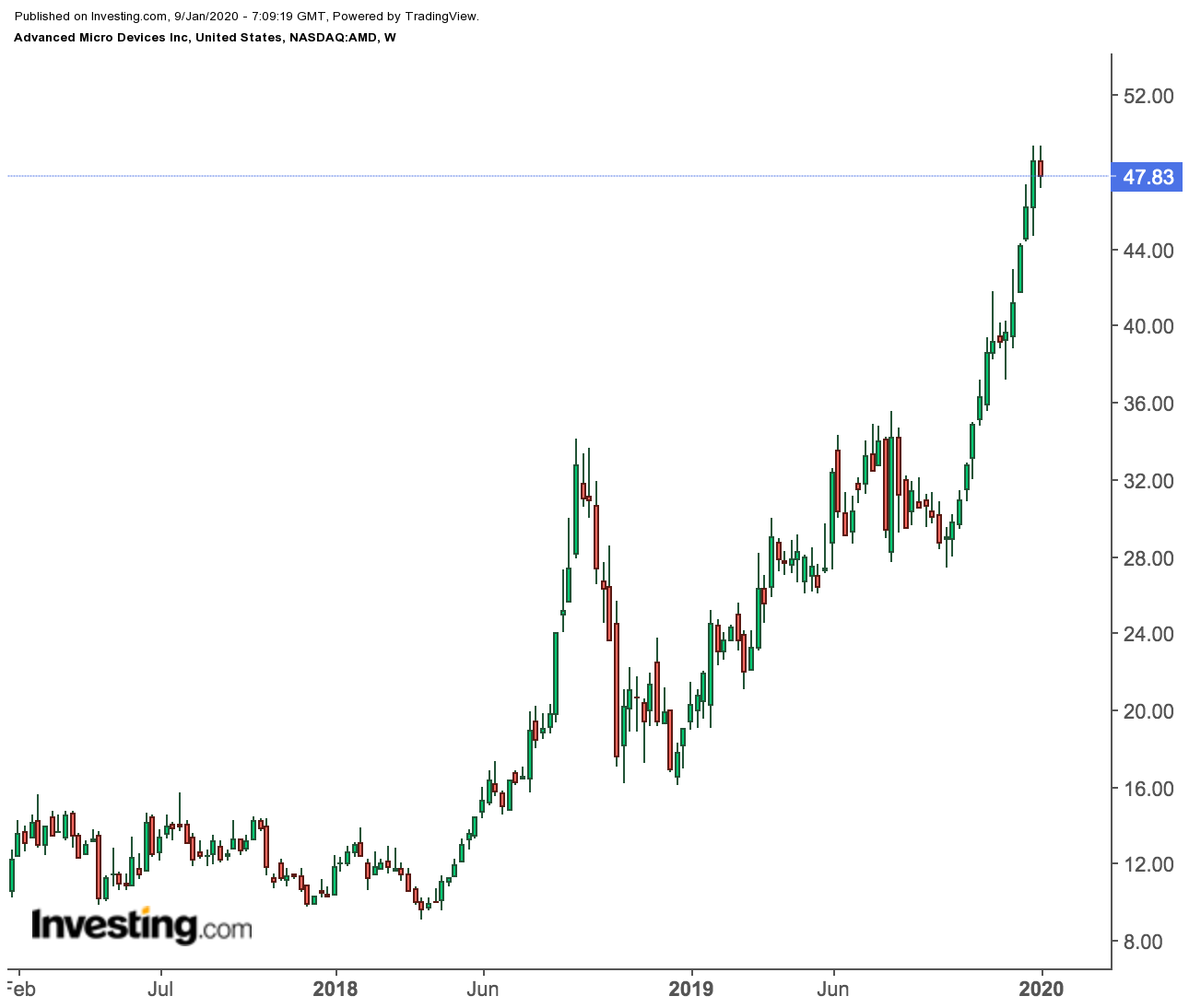 After watching this remarkable rally unfold, the biggest question lurking in the minds of investors is whether they have already missed the boat: is it too late now to buy AMD shares?
On a comparable basis, they don't come cheap. The stock's price-earnings ratio is 208 compared to Intel's (NASDAQ:INTC) 13.94 and NVIDIA's (NASDAQ:NVDA) 65.35. And at 45 times forward earnings, AMD is also now the most richly valued chip stock, fetching more than twice the semiconductor group's average multiple of about 19 times.
AMD's premium valuation means the company has powerful momentum that other players in the semiconductor sector are lacking. But before buying the shares, you should make a calculated bet that they have more room to run and you're not deploying your capital at an overbought level.
To get its growth cycle going, Santa Clara, California-based AMD released many products last year, targeting its biggest rival Intel, which is struggling to roll out its latest and most advanced chips. In a series of new product releases, the company showed that it is in a position to gain a competitive edge over Intel and could win the biggest customers in the cloud computing market — who previously had little option but to rely on Intel's expensive products.
More Ammunition In Store
And it seems the company has more ammunition in store for 2020. At an industry trade show on Monday, AMD announced several updates to its line of PC and graphics processors, including its most advanced Ryzen chips designed for laptops. The company also confirmed that it is designing custom processors for the new PlayStation and Xbox game consoles coming this fall.
The new chips are designed to expand AMD's market share by introducing the latest chips well in advance. The majority of gaming updates, for example, are set to hit the market this year, giving AMD an edge over competitors. AMD's smart move to partner with Taiwan Semiconductor Manufacturing (NYSE:TSM) means that it has access to the 7-nanometer server chips much ahead of Intel. Intel announced on Monday that it will be shipping laptop chips on its new 10-nanometer process this year.
These advances have won AMD a very favorable response from some of the top industry analysts who predict further gains in the stock. In a recent note, Nomura Instinet raised its price target on the stock to $58 from $40. Analyst David Wong expects AMD will "continue strengthening its competitive position in 2020," helped by higher prices and more market share.
Earlier, Rosenblatt Securities also raised its price target to the highest on the Street — $65 — and named AMD its top semiconductor pick for 2020. This year "will continue the early momentum in CPU share gains," wrote Hans Mosesmann, seeing "limited competitive threats slowing the momentum train."
The average price target stands at $39. Currently, 15 analysts recommend buying the stock, compared with the 23 firms tracked by Bloomberg that have a hold-equivalent rating. Four firms recommend selling the name, the fewest number in more than a year.
AMD's fourth-quarter earnings report, scheduled for later this month, will be a major test for its stock. According to analysts' consensus forecasts, sales should surge 28% in 2020, which would be AMD's biggest year of growth since 2004.
Bottom Line
Trading near the highest level in two decades, AMD is susceptible to some correction before carrying on higher. If you already own the stock, some profit-taking isn't a bad idea at this stage. But being cautious doesn't mean that AMD is a bad long-term pick. The chipmaker is slowly expanding its market share and is well positioned to take advantage of lapses by Intel. Any weakness in AMD's stock value should be taken as a buying opportunity.
Read more at : https://www.investing.com/analysis/is-it-too-late-to-buy-amd-stock-200497453