China's Singles' Day, a massive shopping event, occurs annually on Nov. 11 each year.
The holiday which celebrates being single grew out of Nanjing University and eventually became widely celebrated in the 1990s. E-commerce and technology giant Alibaba (NYSE:BABA) first popularized the day as a 24-hour online shopping event in November 2009. Since then, the retail event has shown record-breaking growth and is now the largest online shopping day worldwide. This year, the company kicked off the sales event on Nov. 1.
Although other Chinese and global companies rake in higher sales on that day, Alibaba attracts the most attention. In 2019, 1.29 billion orders were placed through the company's e-commerce platforms and the final number this year is expected to surpass that figure.
Preliminary numbers indicate that Alibaba's gross merchandise value—the total value of orders across its platforms since Nov. 1—was over $70 billion. Over half of all Chinese e-commerce happens on Alibaba's platforms. By comparison, Amazon's (NASDAQ:AMZN) share in the U.S. is just over a third.
Today, we will look at how investors can participate in the staggering growth of Chinese e-commerce and digital services.
Numbers Tell The Story
As the most populous country with the second-largest global economy behind the U.S., China gets a lot of economic attention.
According to eMarketer, the Chinese e-commerce market is the largest in the world with sales of over $2 trillion. As a result, the Asia-Pacific region has about two-thirds of all digital sales globally, while the U.S. is expected to spend over $700 billion in 2020.
How can investors profit from such sales numbers as well as the growth of e-commerce in the country and worldwide? One way would be to invest in the shares of Chinese companies directly.
In addition to Alibaba, examples would include e-commerce services provider Baozun (NASDAQ:BZUN), China Mobile (NYSE:CHL), which benefits from the growth of mobile users, the other e-commerce titan JD.com (NASDAQ:JD), food-delivery platform Meituan (OTC:MPNGY), the third-largest e-commerce group Pinduoduo (NASDAQ:PDD), social media and entertainment giant Tencent (OTC:TCEHY), which also owns the ever-popular WeChat app, online discount retailer Vipshop (NYSE:VIPS), phone maker Xiaomi (OTC:XIACF), and logistics and delivery group ZTO Express (NYSE:NYSE:ZTO), among others.
There will likely be ebbs and flows in their revenue and profit metrics in the coming quarters. For instance, the Chinese government has recently proposed new antitrust regulations. As a result, the shares of many Chinese tech companies have come under pressure.
However, it is important to remember that these businesses all have carved out a niche and investors can, for the most part, expect them to be proactive in offering goods and services in line with the demands of the marketplace.
Those investors who are not ready to commit capital into a single company may want to buy an exchange-traded fund (ETF).
We previously covered the Global X MSCI China Consumer Disc ETF (NYSE:CHIQ) and the Invesco Golden Dragon China ETF (NASDAQ:PGJ). Year-to-date, they are up about 74% and 35%, respectively.
Below we take a look at another ETF to consider to gain exposure to China's growth:
KraneShares CSI China Internet ETF

Current price: $73.45
52-week range: $38.63 – 79.53
Expense ratio: .73%
The KraneShares CSI China Internet ETF (NYSE:KWEB) provides exposure to a range of China-based firms whose primary businesses are either online or in internet-related sectors. In addition to e-commerce marketplaces, these companies are part of internet search, social media, entertainment, or microblogging industries.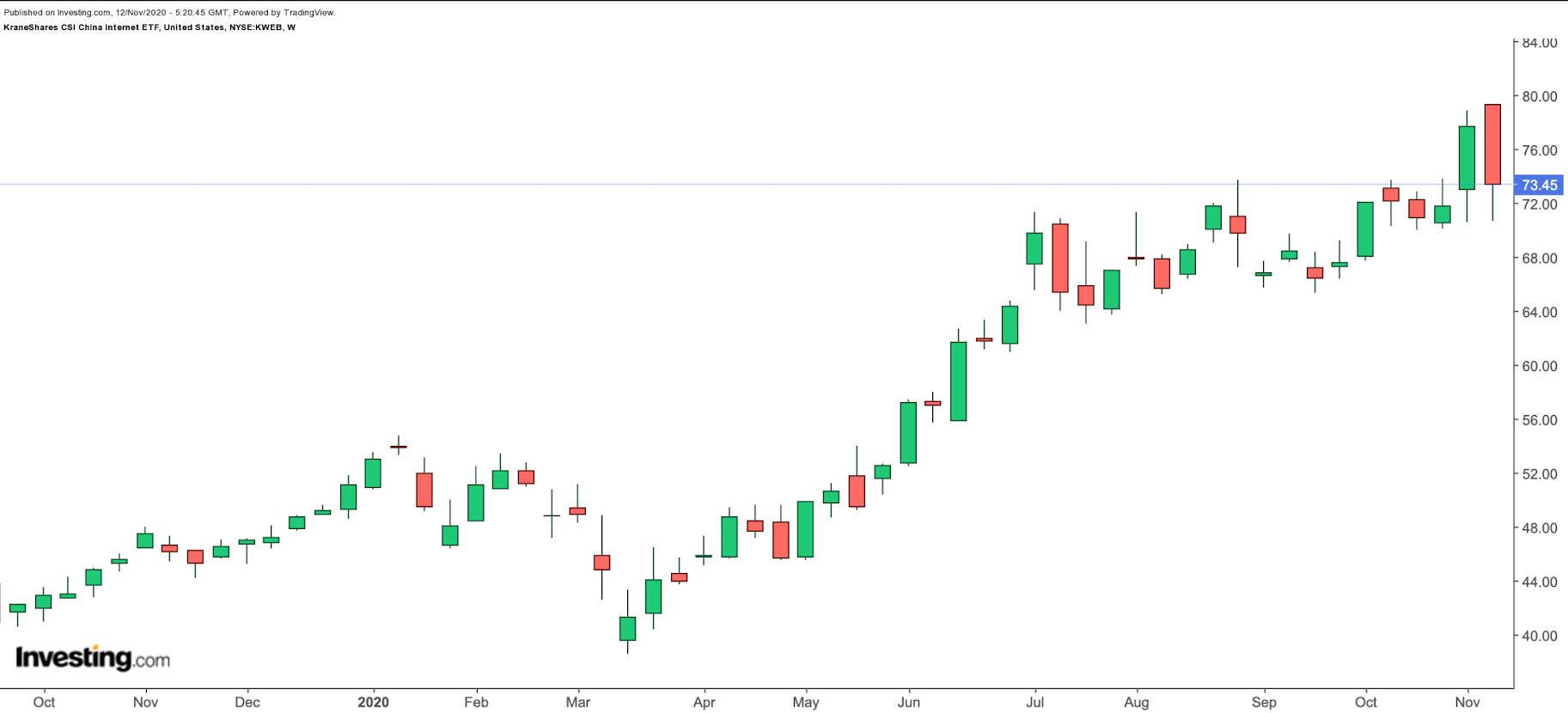 KWEB, which holds 33 companies, tracks the CSI Overseas China Internet index. The fund started trading in 2013. The top ten firms make up around 60% of net assets of $3.9 billion.
Meituan, Tencent, Alibaba, JD.com and Pinduoduo lead the list of businesses in the ETF. Other names of interest are real estate platform Ke (NYSE:BEKE), travel services provider Trip.com (NASDAQ:TCOM) internet-search and artificial intelligence group Baidu (NASDAQ:BIDU), online entertainment provider Bilibili (NASDAQ:BILI), and education business TAL Education Group (NYSE:TAL).
Since the start of the year, KWEB is up over 45% and hit an all-time high of $79.53 on Nov. 9. Due to short-term profit-taking, shares of many of the companies may come under pressure soon.
Yet, as the middle class continues to rise in China, we can expect many of these companies to grow further in the coming quarters. Potential investors would find a better long-term value at around $67.5.
Read more at : https://www.investing.com/analysis/as-chinas-singles-day-sees-staggering-sales-2-etfs-offer-exposure-200544391