GBP/USD OUTLOOK IMPROVES ON HALDANE COMMENTS
The outlook for GBP/USD has improved modestly after Bank of England Chief Economist Andy Haldane suggested Wednesday that the central bank might be closer to tapering its monetary stimulus program than thought previously.
In a radio interview, Haldane said there were already some "pretty punchy pressures on prices", adding that the UK central bank "could start tightening the tap on that, slowing down the amount of money we're printing, and ultimately perhaps even starting to turn that around."
GBP/USD edged ahead on Haldane's comments before easing back as traders realized that Haldane is due to leave the BoE later this month and is generally seen as hawkish anyway, having voted last month to reduce the size of the Bank's bond-buying program.
Still, his comments are positive for GBP/USD, albeit it is unlikely to break out of its recent relatively narrow trading range.
GBP/USD PRICE CHART, 15-MINUTE TIMEFRAME (JUNE 1-9, 2021)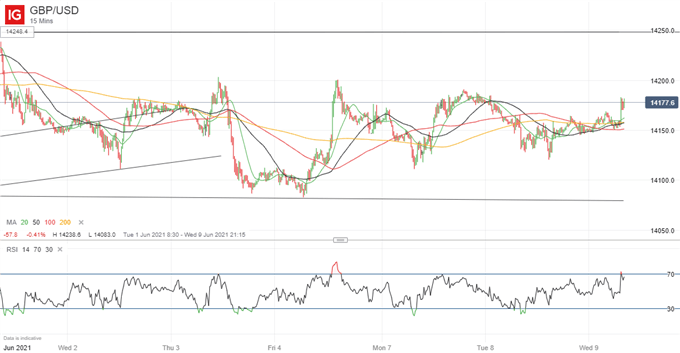 The outlook for GBP/USD has improved marginally after comments by Bank of England Chief Economist Andy Haldane hinting at a reduction in UK monetary stimulus.
Read more at : https://www.dailyfx.com/forex/market_alert/2021/06/09/British-Pound-GBP-Price-Outlook-GBPUSD-Up-Modestly-as-Haldane-Hints-at-Tapering-MSE.html