Shares of the video game publisher Electronic Arts have been flat in 2022
Launch of Star Wars Jedi: Survivor could provide tailwinds in the second half of the year
Long-term investors who can handle volatility around upcoming earnings release of Aug. 2 could consider buying EA shares at current levels
California-based video gaming giant Electronic Arts (NASDAQ:EA) is known for its popular games FIFA, Apex Legends, The Sims, F1, Madden NFL, Need for Speed and Titanfall. Shareholders of EA have seen the value of their investment decline about 8% over the past 52 weeks, while the shares have been more or less flat so far in 2022.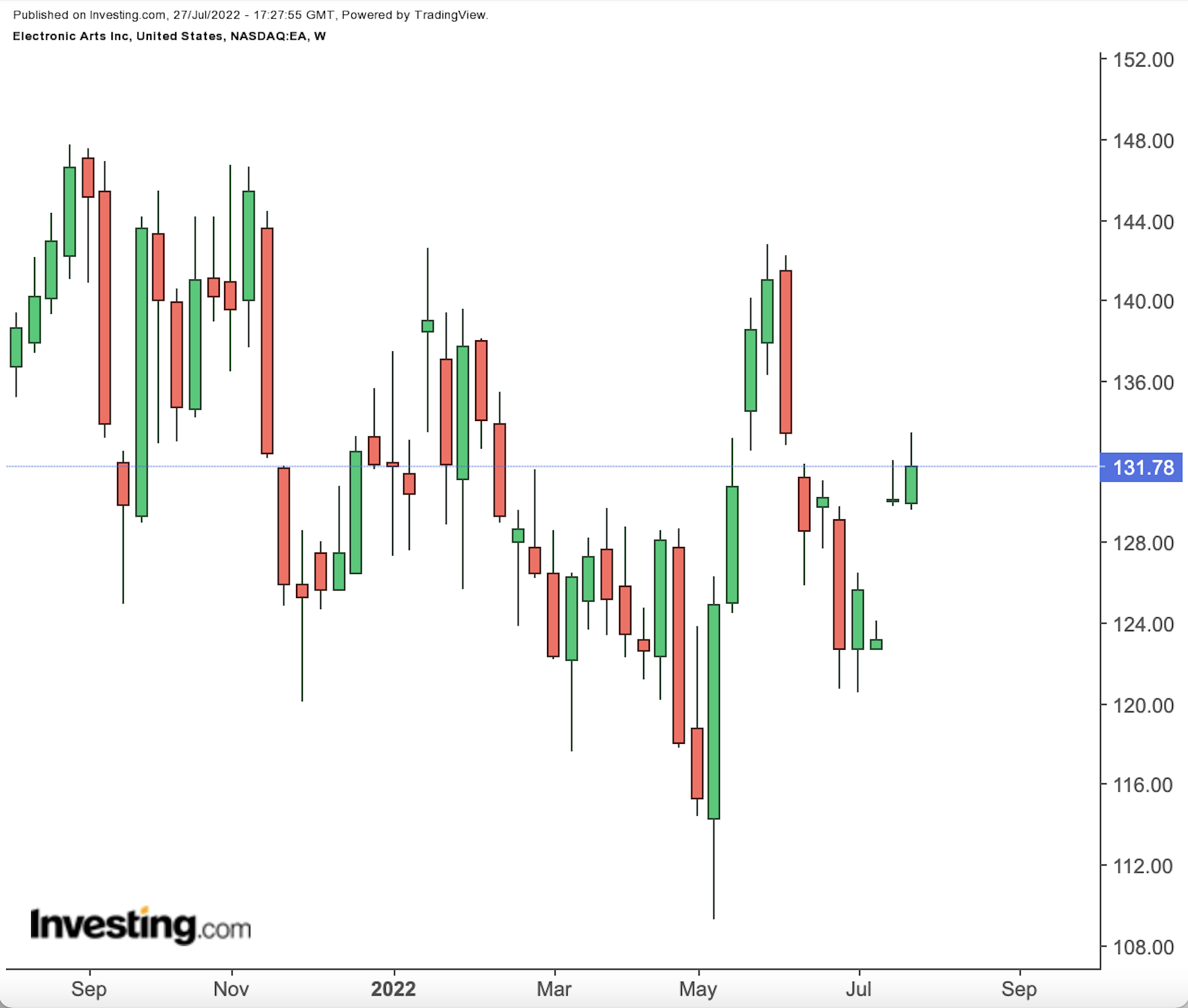 Electronic Arts Weekly Chart
Source: Investing.com
By comparison, shares of rivals, Take-Two Interactive Software (NASDAQ:TTWO) and Nintendo (OTC:NTDOY) have dropped 25.5% and 6.1% so far in 2022. Similarly, the Global X Video Games & Esports ETF (NASDAQ:HERO) has declined close to 30%.
EA stock's 52-week range has been $109.24-$147.76, while the market capitalization is currently at $37.3 billion. By market cap, Electronic Arts is among the leading publishers worldwide, and FIFA remains its best-selling franchise. Meanwhile, fans are waiting for the launch of Star Wars Jedi: Survivor in 2023.
By 2027, the global gaming market is expected to reach $340 billion. The revenue size would indicate a compound annual growth rate (CAGR) of almost 9% between 2021 and 2027. China is the leading market, closely followed by the U.S. and then Japan, South Korea, the UK, Germany, France and Canada.
Recent Metrics
Electronic Arts issued robust Q4 FY22 on May 10. Revenue grew 35.6% year-over-year to reach $1.825 billion. Diluted EPS was 80 cents versus 26 cents the year before.
On the results, chief financial officer Chris Suh said:
"We finished the year with another strong quarter of revenue and profit growth, driven by our live services business, which was 85% of our net bookings in Q4. We have a strong foundation of deeply engaged players, rich IP and a resilient business model, which we will continue to invest in to deliver growth in FY23 and beyond."
For FY2023, the company expects to generate $7.6 billion-$7.8 billion net revenue and anticipates delivering $2.79-$2.87 diluted EPS.
Prior to the release of the Q4 FY22 results, EA stock was around $110. But at the time of writing it trades at $131.90. Electronic Arts will issue its next earnings results on Aug. 2.
What To Expect From EA Stock
Among 31 analysts polled via Investing.com, Electronic Arts stock has an "outperform" rating.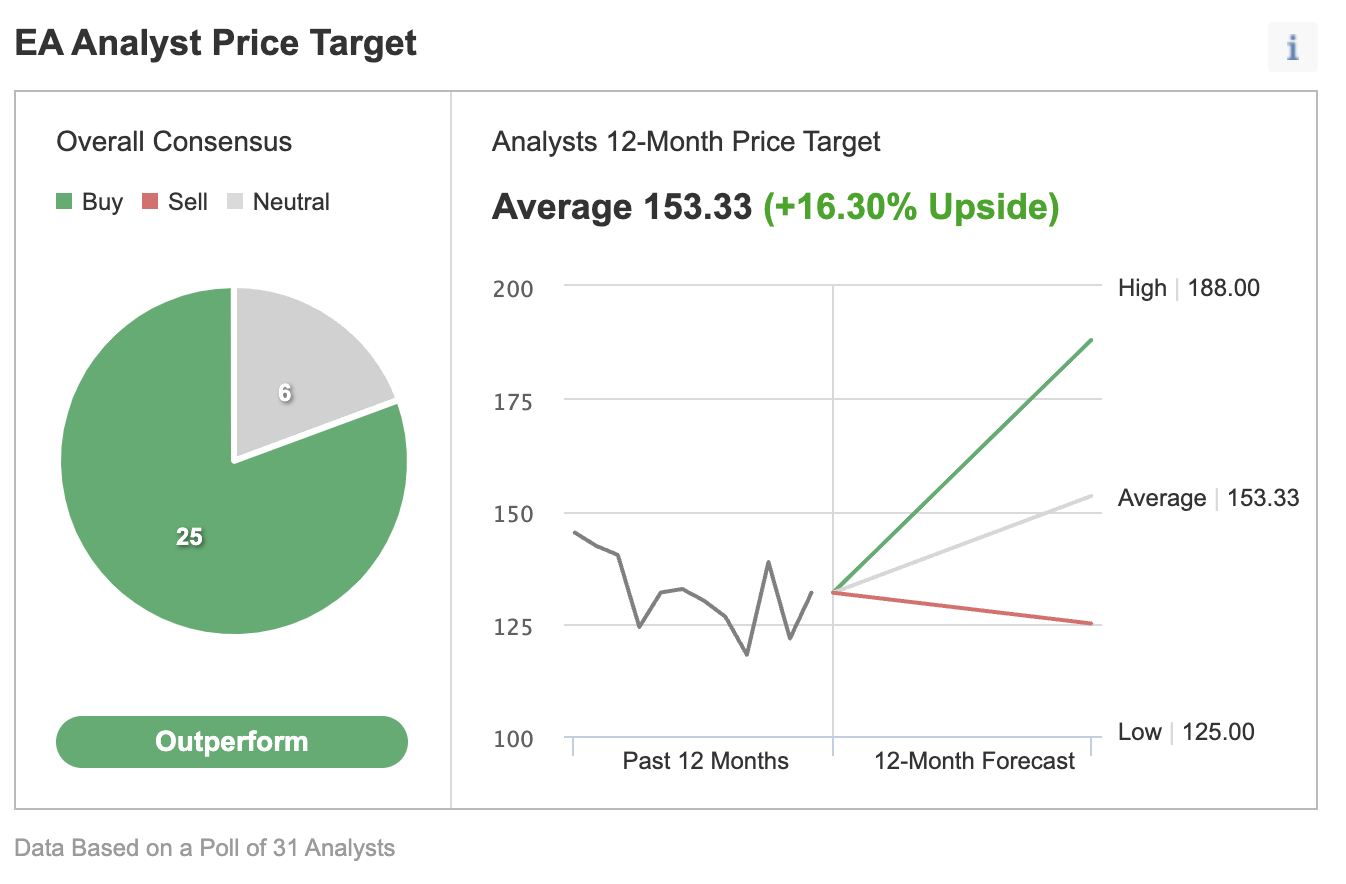 Consensus Estimates of Analysts Polled By Investing.com
Source: Investing.com
Wall Street also has a 12-month median price target of $153.33 for the stock, implying an increase of around 16% from current levels. The 12-month price range currently stands between $125 and $188.
Similarly, according to a number of valuation models, like those that might consider P/E or P/B multiples or terminal values, the average fair value for EA stock stands at $149.50.
In other words, fundamental valuation suggests shares could increase about 14%.
We can also look at EA's financial health as determined by ranking more than 100 factors against peers in the communication services sector.
For instance, in terms of profitability, it scores 4 out of 5. Meanwhile, its cash flow and price momentum scores are 3. The overall score of 3 points is a good performance ranking.
At present, P/E, P/B and P/S ratios for Electronic Arts are 46.3x, 4.8x and 5.2x, respectively. Yet, comparable metrics for peers stand at 7.7x, 1.7x and 1.4x, respectively. These numbers show that the fundamental valuation for EA stock is still on the rich side.
Our expectation is for EA stock to be volatile during the earnings season and to trade in a wide range between $120 and $140. Following the new quarterly results, shares could potentially start a new leg up in late Q3.
Adding EA Stock To Portfolios
Electronic Arts bulls who are not concerned about short-term volatility could consider investing now. Their target price would be $149.50, as forecast by quantitative models.
Alternatively, investors could consider buying an exchange-traded fund (ETF) that has EA stock as a holding. Examples include:
Finally, investors who expect EA stock to move up in the weeks ahead could consider setting up a bull call spread.
Most option strategies are not suitable for all retail investors. Therefore, the following discussion on EA stock is offered for educational purposes and not as an actual strategy to be followed by the average retail investor.
Bull Call Spread On EA Stock
Price At Time Of Writing: $131.90
In a bull call spread, a trader has a long call with a lower strike price and a short call with a higher strike price. Both legs of the trade have the same underlying stock (i.e. Electronic Arts) and the same expiration date.
The trader wants EA stock to increase in price. In a bull call spread, both the potential profit and the potential loss levels are limited. The trade is established for a net cost (or net debit), which represents the maximum loss.
Today's bull call spread trade involves buying the Sept. 16 expiry 135 strike call for $5.30 and selling the 140 strike call for $3.70.
Buying this call spread costs the investor around $1.60, or $160 per contract, which is also the maximum risk for this trade.
We should note that the trader could easily lose this amount if the position is held to expiry and both legs expire worthless, i.e., if the EA stock price at expiration is below the strike price of the long call (or $135 in our example).
To calculate the maximum potential gain, we can subtract the premium paid from the spread between the two strikes, and multiply the result by 100. In other words: ($5 – $1.60) x 100 = $340.
The trader will realize this maximum profit if the Electronic Arts stock price is at or above the strike price of the short call (higher strike) at expiration (or $140 in our example).
Bottom Line
As it gets ready to report earnings, EA is likely to be choppy. Yet, Wall Street remains bullish on Electronic Arts. Therefore, buy-and-hold investors could consider investing soon. Alternatively, experienced traders could also set up an options trade to benefit from a potential run-up in the price of EA stock.
Disclaimer: On the date of publication, Tezcan Gecgil, Ph.D., did not have any positions in the securities mentioned in this article.
3 Trades In Video Game Giant Electronic Arts During Pre-Earnings Run-Up
Read more at : https://www.investing.com/analysis/3-trades-in-video-game-giant-electronic-arts-during-preearnings-runup-200627721