After wrapping up November, which turned out to be one of the best months of the year for equities, investors will begin December trading with renewed optimism that the market will continue its upward journey, helped by the strength of the U.S. economy and fueled by hopes that the U.S. and China are close to finally signing a trade deal.
This past month, stocks posted their best monthly performance since June. The S&P 500 was up 3.4% to 3,140, and the Dow closed on Friday at 28,051, up 3.7% for the month. Technology was the best performing sector in November, gaining 5.2%. That helped drive the NASDAQ higher, +4.5% for the month to 8,665.
The big risk as December begins remains the outcome of trade talks, along some key economic reports which should provide new insight on the future direction of the economy. For the week, these three stocks could show some unusual price action, after each releases earnings reports:
1. Salesforce.com
Salesforce.com (NYSE:CRM), which sells software and cloud-based services to corporate clients, will report third quarter earnings on Tuesday, Dec. 3, after the market close. On average, analysts expect $0.66 a share profit on sales of $4.45 billion, helped by a global surge in technology spending.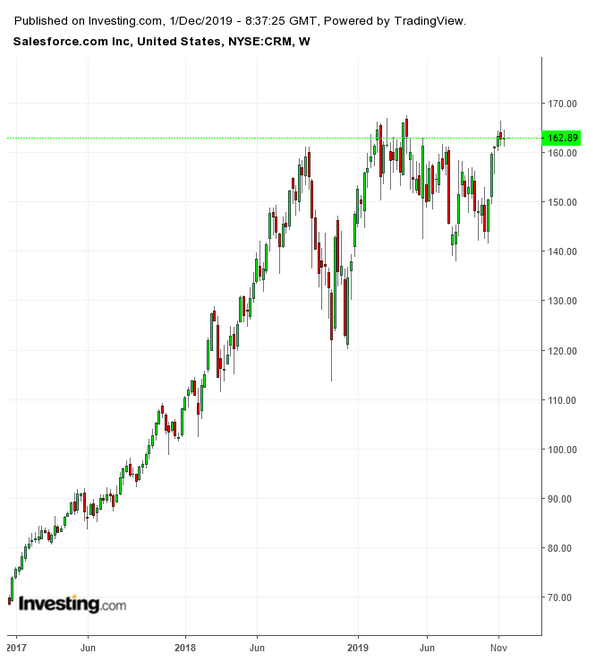 The San Francisco-based company's revenue and stock price have risen in recent years, as companies accelerate spending on digital transformations. The 20-year-old CRM has also been positioning itself to be a dominant provider of cloud-computing applications after a number of strategic acquisitions.
For the current year, Salesforce raised its revenue forecast to between $16.75 billion and $16.9 billion, up from between $16.1 billion and $16.25 billion. However, the company also cut its earnings outlook as it works to digest the above mentioned acquisitions, including software maker Tableau Software (NYSE:DATA) which it bought for $15.3 billion in June.
The all-stock deal was Salesforce's largest transaction ever, part of its move to expand into the business intelligence arena. Shares of Salesforce have lagged the broader market so far in 2019, rising 19% when compared to 30% gains for the tech-heavy NASDAQ Index. The stock closed on Friday at $162.89.
2. Kroger
Supermarket behemoth, Kroger (NYSE:KR) will report its third quarter earnings on Thursday, Dec. 5, before the market opens. Analysts are expecting $0.49 a share profit for the period ended Sept. 30 on sales of $28.15 billion.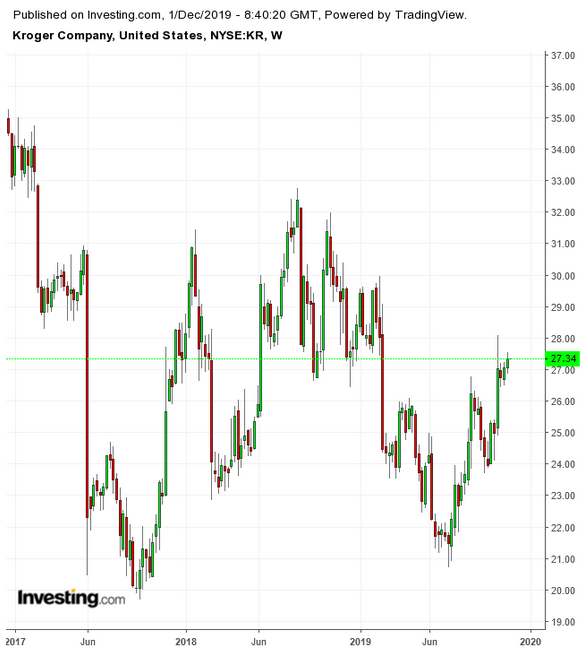 Kroger's stock has fallen 10% during the past one year, amid investor concerns that Walmart (NYSE:WMT) and other rivals are taking market share from the Cincinnati-based grocery chain which is struggling to put together a winning strategy in this tough competitive environment. Shares of Kroger closed on Friday at $27.34 after rising 0.4%.
To defend its turf, the largest U.S. supermarket chain acquired meal kit company Home Chef, and expanded its partnership with Instacart, a San Francisco-based, same-day grocery delivery service which operates in some areas of the U.S.
While announcing second quarter earnings in September, Kroger's Chief Executive Officer Rodney McMullen said the chain won't reconfirm its three-year forecast to generate $400 million in incremental profit at this time. For Q3, it now expects earnings to be flat due to pressures on its pharmacy business.
However, it was able to keep full-year earnings guidance unchanged since it expects fourth quarter profits will be better than it had earlier anticipated.
3. Zoom Video
Zoom Video (NASDAQ:ZM) releases its second quarter earnings on Thursday, Dec. 5, after the market close. On average, analysts expect $0.03 a share profit on sales of $155.94 million.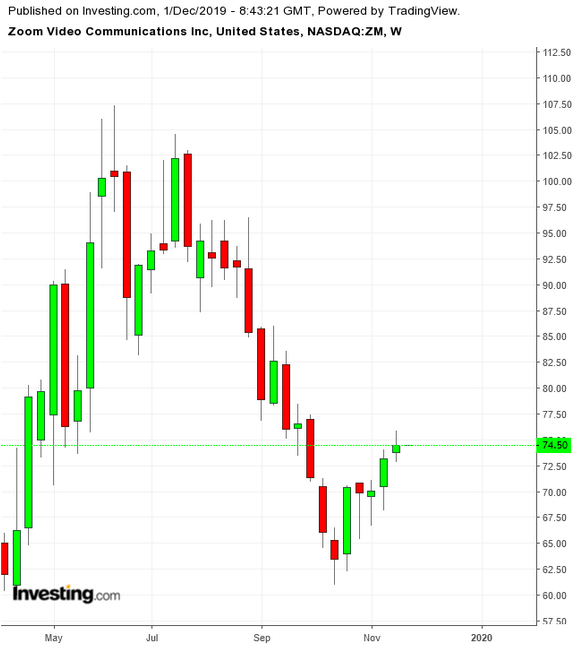 For the prior quarter, the video conferencing company posted earnings that beat expectations. Still, the stock lost its luster as investors questioned the company's valuation, which had reached stratospheric levels. Zoom shares are down almost 30% from their peak of $107.34 earlier this year, closing at $74.50 on Friday.
One stark difference in its favor between Zoom Video and other high profile IPOs in 2019 has been that unlike Uber Technologies (NYSE:UBER) and LYFT (NASDAQ:LYFT), for example, ZM has shown profitability from day one of its public debut on Apr. 18, 2019. This sets them apart from other tech names which typically burn significant amounts of cash for extended periods of time before reaching any profitability. Zoom made $7.58 million in net income last year. Revenue surged 118% to $330.5 million.
The company is aiming to make video communication frictionless, at a time when more employees work remotely, using conferencing services to connect with coworkers. International Data Corp. has estimated that the segments of the market in which Zoom operates could be worth as much as $43.1 billion by 2022, according to a regulatory filing.
Read more at : https://www.investing.com/analysis/3-stocks-to-watch-in-the-coming-week-salesforcecom-kroger-zoom-video-200489099