Investors are likely to remain on the sidelines in the coming week amid concerns about surging inflation during a period which is historically weak for equities.
The University of Michigan's preliminary sentiment index showed last week that U.S. consumer sentiment rose slightly in early September, but remained close to a near-decade low, while buying conditions deteriorated to their worst since 1980 because of high prices.
With September traditionally a weaker month for the stock market historically, the major indexes ended the past week with slight losses. The S&P 500 was down 0.6% for the week, the Dow lost 0.1%, while the NASDAQ Composite dropped nearly 0.5% for the week.
As these volatile market conditions prevail, here are three stocks we're following closely—all will be announcing their latest earnings in the days ahead:
1. Nike
Sportswear giant Nike (NYSE:NKE) will release its fiscal 2022 first quarter earnings on Thursday, Sept. 23, after the market close. On average, analysts are expecting $1.12 a share profit on sales of $12.46 billion.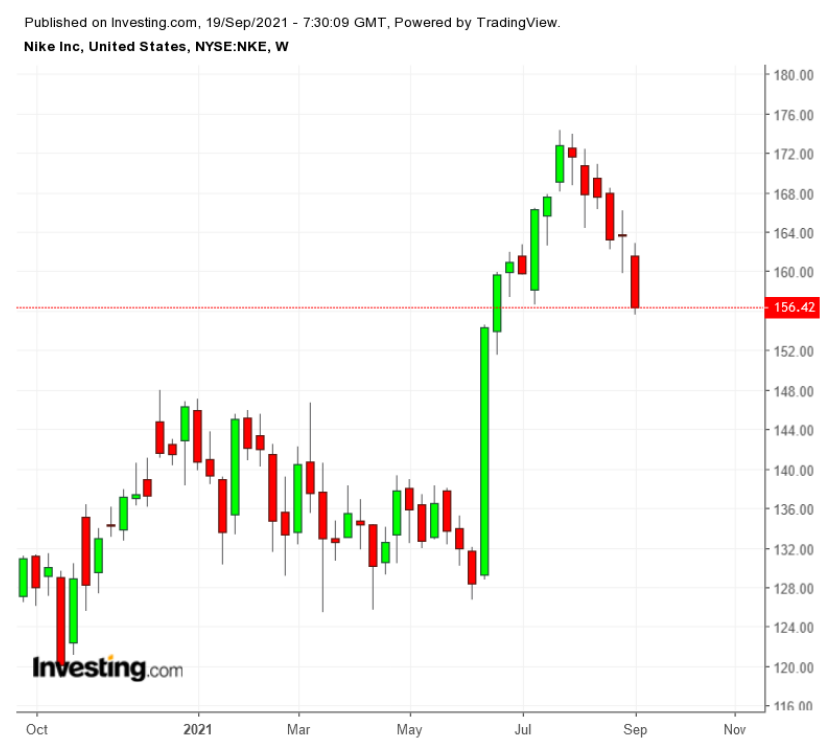 In its last earnings guidance, the Beaverton, Oregon-based sneaker and sports apparel colossus predicted that sales this fiscal year will surpass $50 billion for the first time, benefiting from rebounding growth in North America and Europe where sports leagues and other events have resumed.
Due to a considerable improvement in Nike's margins as it moves its sales to a lower-cost online model, analysts are bullish on Nike stock, even after the powerful rally this year.
Nike shares closed on Friday at $156.42, after gaining more than 20% during the past three months.
2. Costco Wholesale 
The retail sector will remain under scrutiny the same day when Costco Wholesale (NASDAQ:COST) reports its fiscal 2021 fourth quarter results, Sept. 23, also after the close. Analysts are expecting $3.56 a share in profit on sales of $61.4 billion.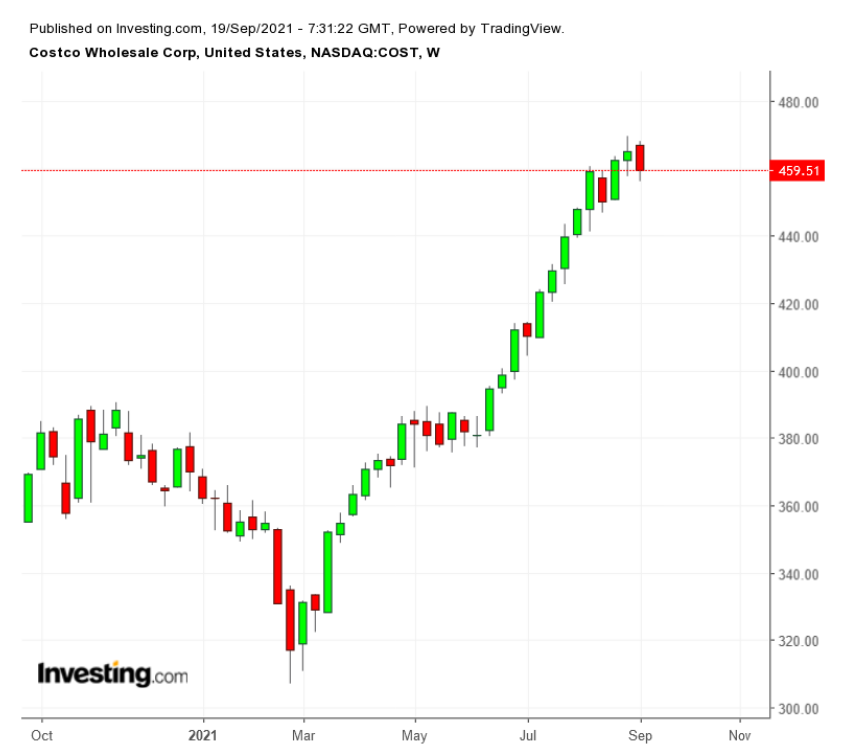 During the past year, Costco has been one of the favorite equity picks for investors. The COVID-19 pandemic provided an unprecedented surge in sales volumes for the international big-box retailer as consumers stocked their pantries to avoid too many trips to stores.
While that buying spree is largely over, the latest results will likely show a normalized sales pattern and some impact of increased economic activity after the reopening. Costco stock, up about 20% in the past quarter, will need a robust earnings report to justify a further move higher from here. It closed on Friday at $459.51.
3. FedEx
The world's largest parcel delivery service, FedEx (NYSE:FDX), is another mega cap company that will report its latest earnings during the week ahead. On average, analysts are expecting the Memphis, Tennessee-based freight and logistics giant to report earnings per share of $4.94 for its fiscal 2022, first quarter on Tuesday, Sept. 21, after the market close. Sales are likely to jump to $21.9 billion from $19.3 billion a year ago.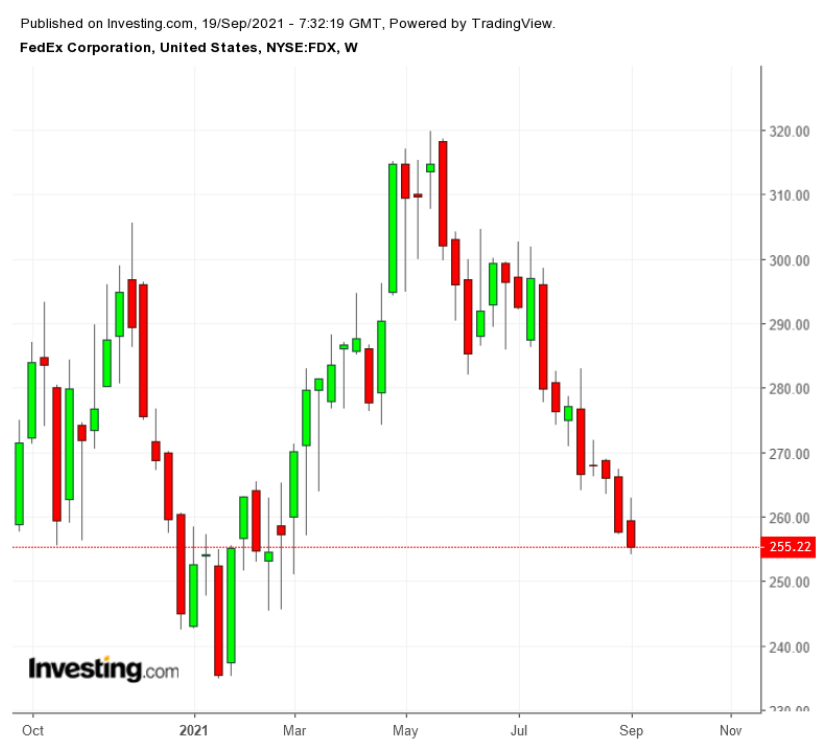 The delivery firm's earnings, which come almost a month earlier than the majority of U.S. companies, are closely watched. The business is considered a proxy for the health of the global economy.
The last release from the company showed that while its sales surged during the pandemic, cost pressures have begun to pinch. Capital expenditures will jump more than 20% during fiscal year 2022 as FedEx ramps up spending to boost efficiency, including on 16 automated facilities to be built before the end of the year.
FedEx shares have fallen about 11% during the past three months. The stock closed at $255.22 on Friday.
Read more at : https://www.investing.com/analysis/3-stocks-to-watch-in-the-coming-week-nike-costco-fedex-200602354