Amid supply-chain obstacles and surging inflation, the upcoming week will be mostly about earnings, as some of the nation's largest companies release their third-quarter financial numbers.
The season is expected to produce another strong quarter, mainly benefiting from the reopening of the economy that helped consumers to  spend in areas where demand remained subdued during the pandemic restrictions.
Earnings during Q3 are expected to have risen 27.6% year-over-year, according to FactSet. That would be the third-highest growth rate since 2010. Below, we've short-listed three stocks from different sectors which we're monitoring as the Q3 earnings season begins:
1. JPMorgan Chase
Global lender JPMorgan Chase (NYSE:JPM) will report its Q3 earnings on Tuesday, Oct. 13, before the market open. Analysts expect the Wall Street powerhouse to report $3.01 a share profit on sales of $29.8 billion.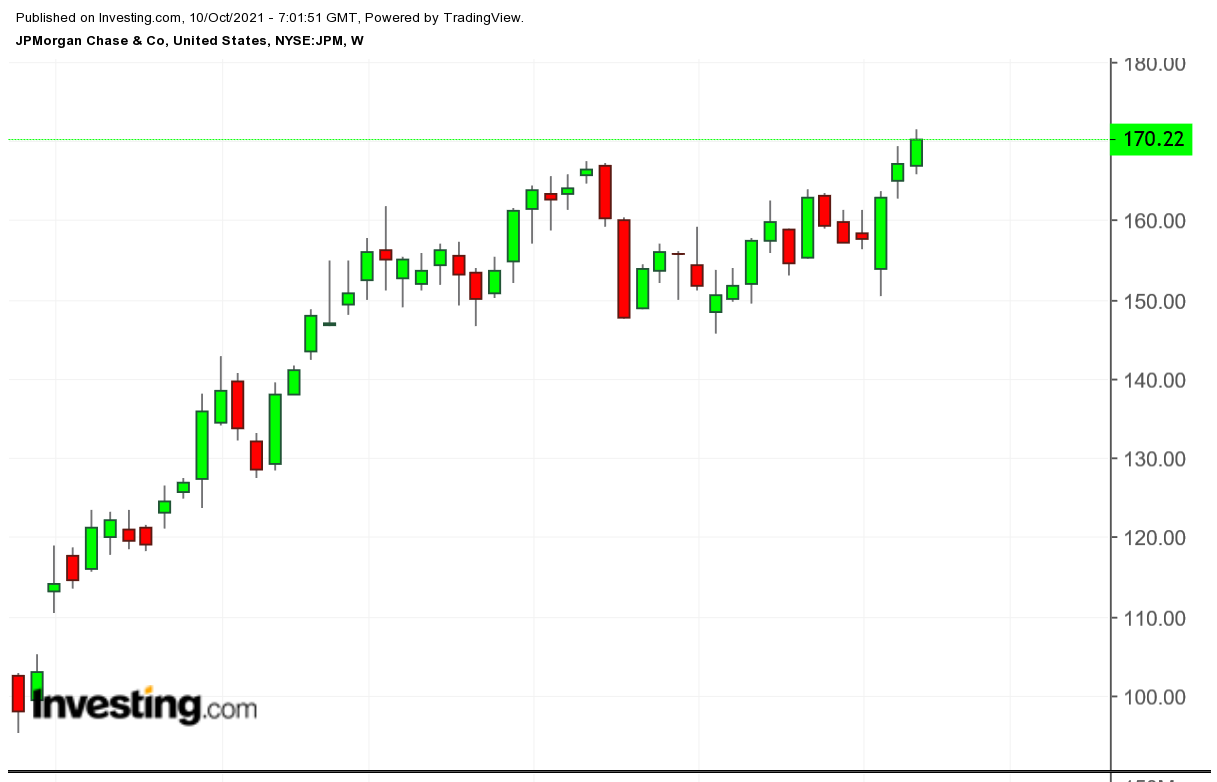 The international investment bank has benefited from the strong market activity since the pandemic began and that trend is likely to have continued. JPMorgan told investors last month that it is expecting Q3 trading and investment-banking results to be better than the firm's earlier forecast.
Investment-banking fees will increase from a year earlier, boosted by continued momentum in mergers and acquisitions, after the firm's bankers posted their best three months ever in the second quarter. This year is on track to become the most-active year for global M&A, according to data compiled by Bloomberg.
JPM stock closed on Friday at $170.22, after rallying strongly so far this year. Shares are up 34% in 2021, handily beating the S&P 500's 17% expansion.
2. Delta Air Lines
Delta Air Lines (NYSE:DAL) will also report its Q3 earnings on Tuesday, Oct. 13, before the market open. On average, analysts are expecting a profit of $0.17 a share on sales of $8.4 billion.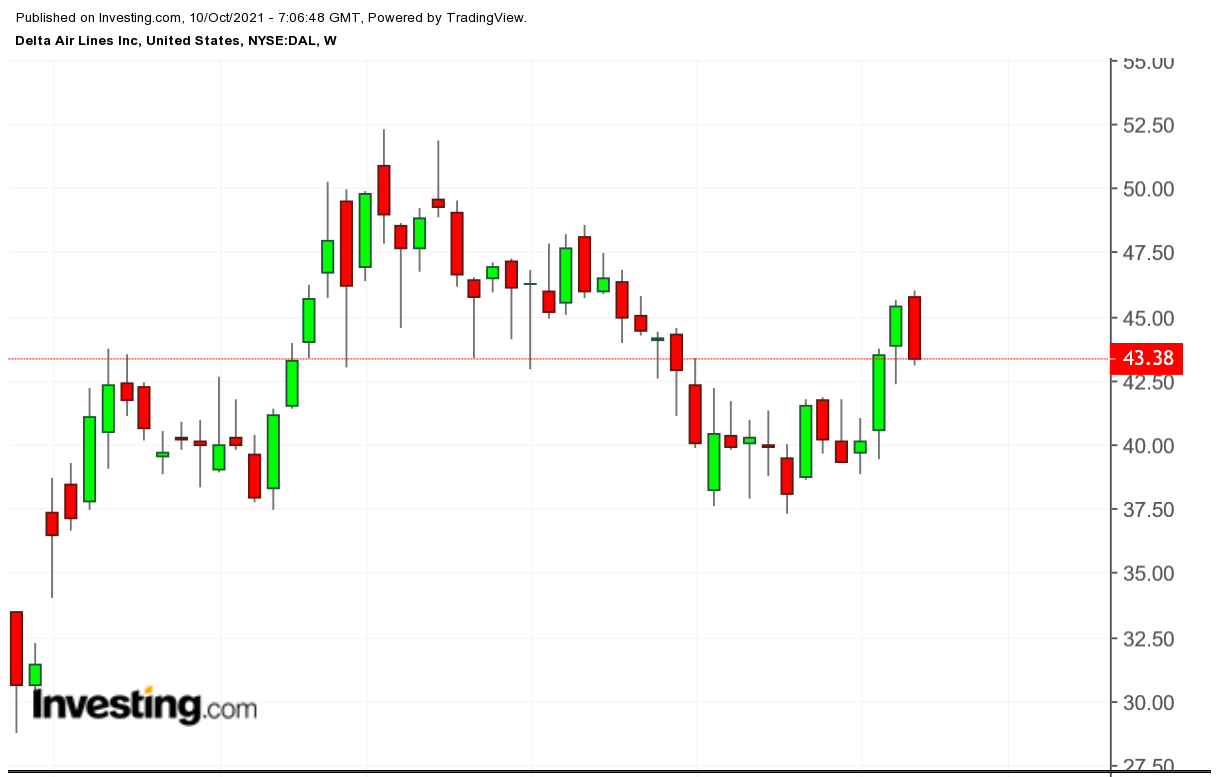 The global airline industry is trying to stage a comeback after a brutal 2020 in which air traffic plunged amid surging COVID-19 infections. Domestic air travel in the US is rebounding with the acceleration of coronavirus vaccine rollouts.
Delta Airlines predicted in July that its earnings would rebound in the second half as U.S. business traffic starts to revive this fall, following surprisingly strong summer demand for leisure trips.
Corporate travel is poised to recover to 60% of 2019 levels by September, up from 40% in June and 20% in March, according to Chief Executive Officer Ed Bastian. The coming rebound in business flying echoes the earlier gains in leisure trips, which have "fully recovered," Delta said in a statement in July.
Shares of Delta closed on Friday at $43.38, after gaining 8% this year amid concerns that new variants of the coronavirus will continue to keep some travel segments depressed.
3. Walgreens Boost
Walgreens Boots Alliance (NASDAQ:WBA), the second-largest pharmacy operator in the U.S., will report fiscal year 2021, fourth quarter earnings on Thursday, Oct. 14, before the market opens. Analysts expect an EPS of $1.02 a share in the quarter on revenues of $33.03 billion.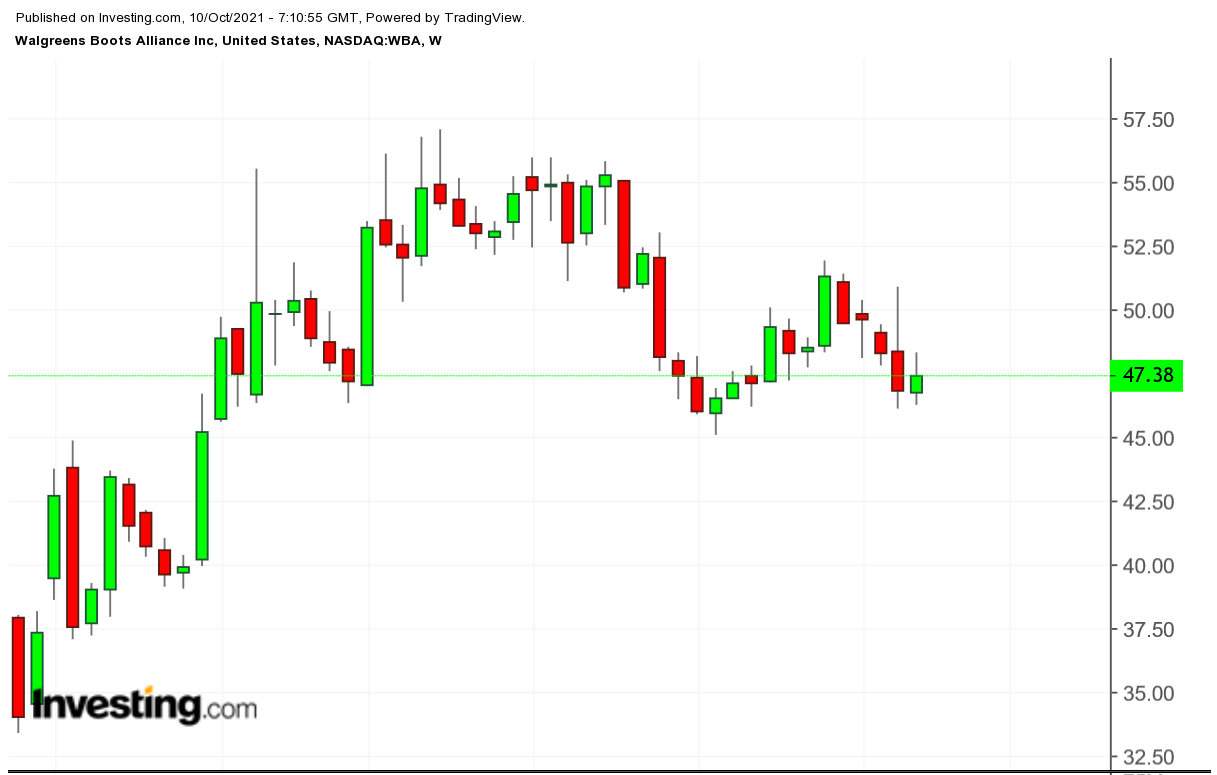 The Deerfield, Illinois-based company signaled during the summer that earnings growth would slow and investments would increase in the coming months as the COVID-19 related boost to sales has likely passed.
The company benefited from the pandemic as it administered millions of vaccines to Americans who tend to spend on other items as well when they visit the pharmacies. Most of that momentum has likely passed, with the majority of adults already immunized and the rest either uncertain or unconvinced about the shots.
Walgreens shares closed at $47.38 on Friday,  after falling more than 7% during the past month.
Read more at : https://www.investing.com/analysis/3-stocks-to-watch-in-the-coming-week-jpmorgan-delta-air-walgreens-boost-200604538