Summer vacation 2020 was hardly anything but bleak, with COVID-19 causing many to cancel their vacation plans, and stocks in the entertainment, booking, airlines, cruises, and hotel sectors taking significant hits.
Now, fast-forward to Summer 2021. Underpinned by a flood of stimulus measures and successful COVID-19 vaccine rollouts, many beaten-down names have made impressive recoveries from their pandemic lows.
With summer officially kicking off, here are three stocks which are well-positioned to extend their march higher in the weeks ahead due to strong seasonal demand.
1. Expedia
Year-To-Date Performance: +26.1%
Market Cap: $24.5 billion
Expedia (NASDAQ:EXPE) is a leading online travel shopping company, used primarily for consumer and small business travel. Its popular list of websites includes Expedia.com, Orbitz, Travelocity, Vrbo, Trivago, Hotels.com, Hotwire.com, and CarRentals.com.
The online travel agency, which saw its shares collapse as the coronavirus crisis kicked into high gear in March 2020, has capitalized on the recovery in the travel industry as economies around the world reopen and pandemic-era restrictions ease.
EXPE stock, which has gained about 26% this year, and 104% in the last 12 months, closed at $166.93 on Tuesday, within sight of its record peak of $187.90 reached on Mar. 18.
At current levels, the Seattle, Washington-based online vacation booking platform has a market cap of around $24.5 billion.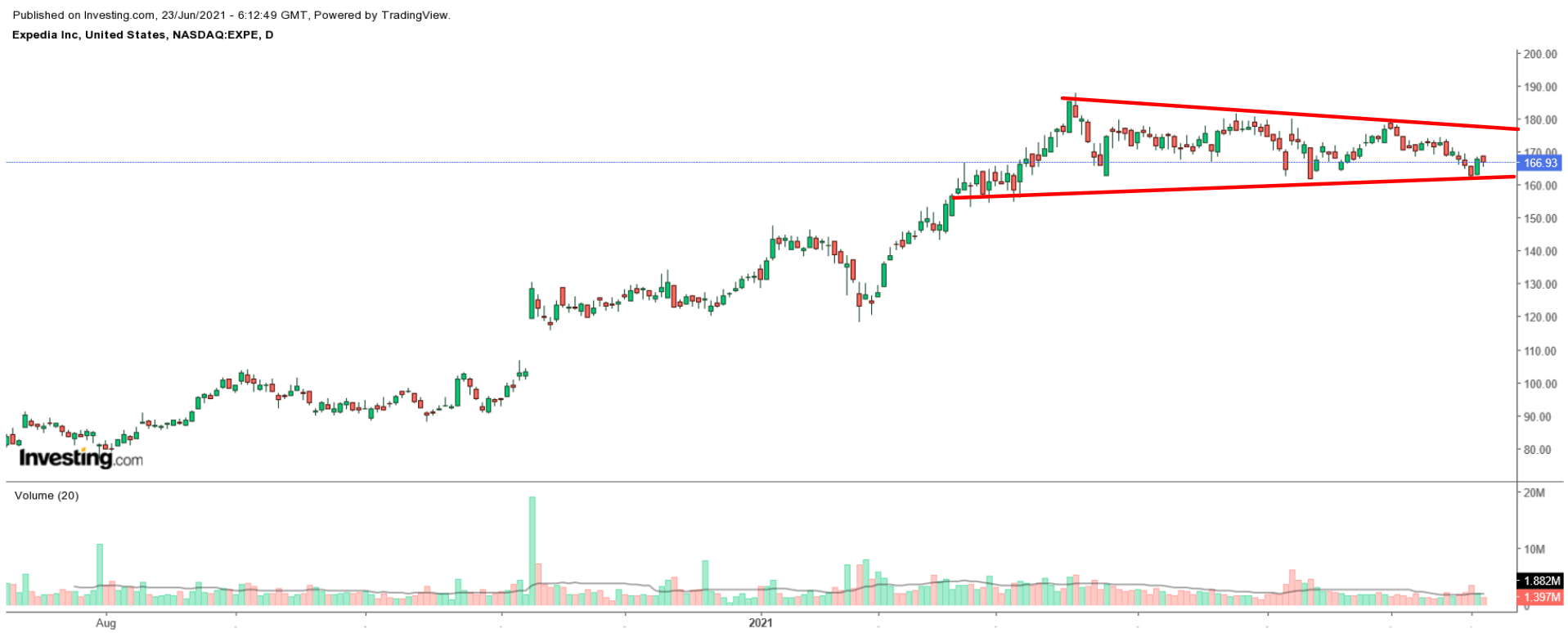 Expedia remains one of the best stocks to buy for investors who want to play the ongoing rebound in domestic travel demand, especially as we enter the key summer months.
The online travel giant, which reported promising first quarter financial results in early May, next reports earnings after the U.S. market closes on July 29.
Consensus calls for a loss of $0.63 per share for its second quarter, narrowing substantially from a loss of $4.00 per share in the year-ago period.
Revenue is forecast to clock in at $1.99 billion, soaring 251% from sales of $566 million in the same quarter a year earlier, benefitting from a strengthening U.S. travel market.
In addition to EPS and revenue, investors will pay close attention to comments from Expedia's management regarding their outlook for the rest of the year and beyond.
In the company's Q1 earnings report, CEO Peter Kern sounded hopeful on the eventual full reopening of the travel market, saying he expects domestic and leisure demand to lead the recovery.
Honorable mentions: Booking Holdings (NASDAQ:BKNG), Airbnb (NASDAQ:ABNB), TripAdvisor (NASDAQ:TRIP)
2. Pool Corporation
Year-To-Date Performance: +23.4%
Market Cap: $18.4 billion
Pool Corporation (NASDAQ:POOL) is the world's leading distributor of swimming pool supplies, equipment, and related backyard leisure products. The company, which serves roughly 120,000 wholesale customers around the globe, also provides supplies and services to retail stores and swimming pool repair and maintenance centers.
POOL stock—which was added to the S&P 500 in October 2020—has thrived recently, jumping more than 23% year-to-date and nearly 70% in the last 12 months, as the COVID pandemic prompted homeowners to spend more on maintaining and replacing their backyard pools.
Shares, which rose to a new all-time high of $464.03 on Monday, ended at $459.76 last night, giving the Covington, Louisiana-based swimming pool products distributor a market cap of around $18.4 billion.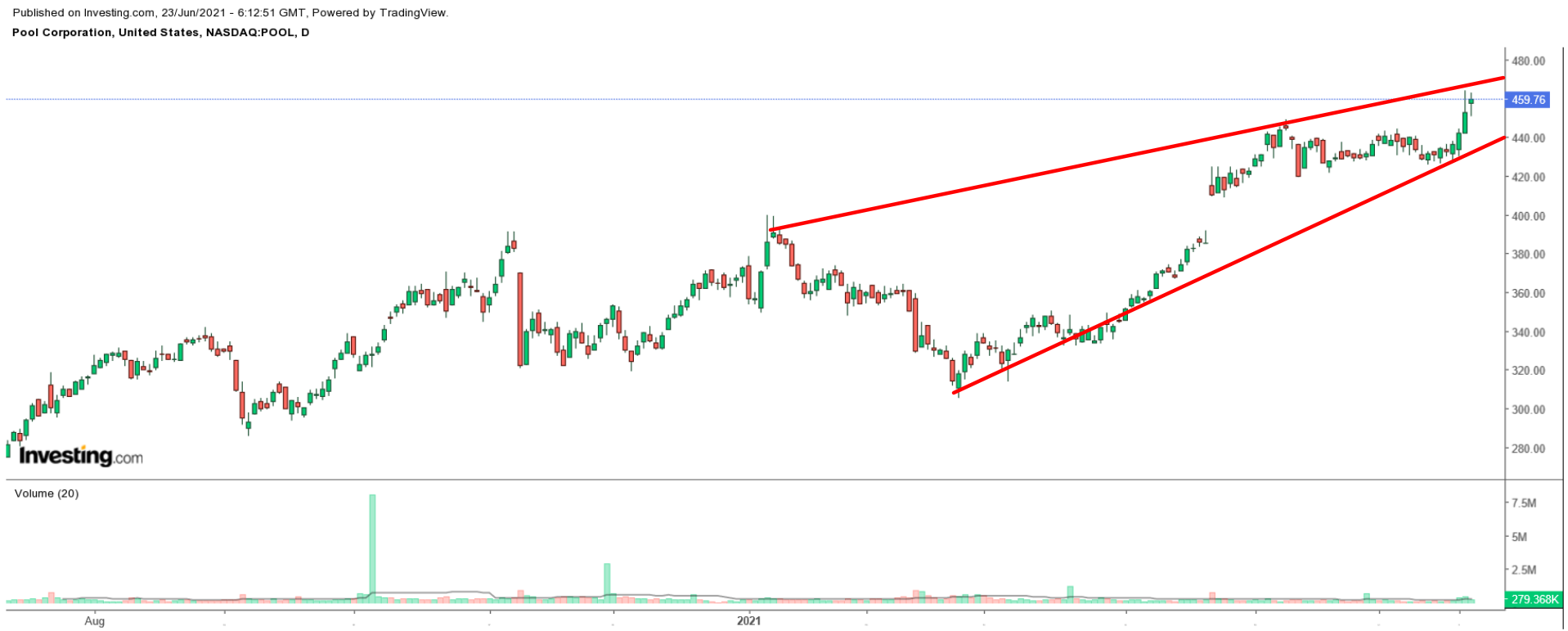 Pool Corp, which smashed expectations for earnings and revenue in the last quarter, is scheduled to next report financial results on July 22, before U.S. markets open.
Consensus estimates call for earnings per share (EPS) of $5.48 for its second quarter, improving 47% from EPS of $3.72 in the year-ago period.
Revenue is expected to reach an all-time high of $1.73 billion, up 35% from sales of $1.28 billion in the same period a year earlier, reflecting elevated demand for its residential pool products.
Beyond the top- and bottom-line numbers, investors are hoping Pool's management will maintain its upbeat view regarding its outlook for full-year fiscal 2021 as the pool supplies company continues to benefit from favorable consumer trends and customer demand.
Pool guided for full-year EPS in the range of $11.85 to $12.60 in Q1, up sharply from previous profit guidance of $9.12 to $9.62 per share.
Honorable mentions: Hayward Holdings (NYSE:HAYW), Academy Sports Outdoors (NASDAQ:ASO), Leslies (NASDAQ:LESL)
3. Molson Coors
Year-To-Date Performance: +21.5%
Market Cap: $11.9 Billion
The Molson Coors Brewing Company (NYSE:TAP) is the fifth-largest beer brewer in the world, selling 15 brands in more than 100 countries. It was formed in 2005 through the merger of Molson of Canada and Coors of the United States.
Shares of the Chicago, Illinois-based brewer, which trade on both the New York Stock Exchange and Toronto Stock Exchange, have outperformed the broader market recently, gaining 21.5% so far in 2021 and 47% in the last 12 months, thanks to growing demand for hard seltzers and a recovery in the beer business.
The iconic brewing company, which counts Coors Light, Miller Lite, Blue Moon, Peroni, and Carling as some of its leading beer brands, recently added Topo Chico Hard Seltzer to its lineup. It has also introduced Vizzy Lemonade, and Coors Seltzer as new additions to its product list.
TAP stock, which jumped to a pre-pandemic high of $61.48 on June 10, ended Tuesday's session at $54.92, earning it a valuation of roughly $11.9 billion.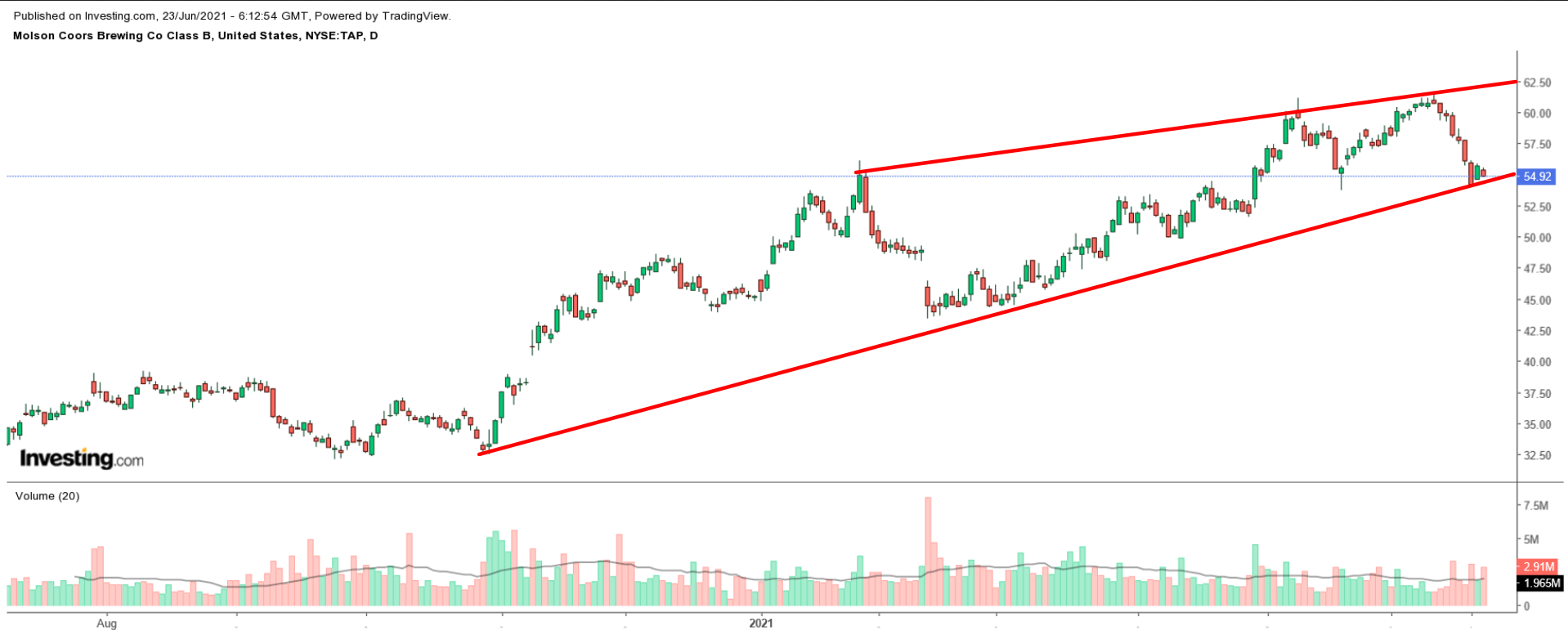 As summer commences, Molson remains one of the best stocks to own, considering the seasonal jump in beer consumption as people around the world resume pre-pandemic leisure activities, such as going out to bars and restaurants and attending sporting events.
Molson, which posted a surprise profit in the first quarter in late April, is scheduled to report second quarter earnings on July 28, ahead of the U.S. market open.
Consensus calls for earnings per share of $1.34 on revenue of $2.81 billion, up almost 12% year-over-year, driven once again by surging demand and strengthening beer industry fundamentals.
Nielsen data shows that U.S. retail sales of hard seltzer soared 103% in the year ending Apr. 24 to reach $4.52 billion. That represents growth of 585% from two years ago.
Honorable mentions: Boston Beer (NYSE:SAM), Anheuser Busch (NYSE:BUD), Constellation Brands (NYSE:STZ)
Read more at : https://www.investing.com/analysis/3-hot-stocks-set-to-shine-as-the-summer-vacation-season-kicks-off-200587726